Went to Costco in Taichung on Saturday. I was very surprised to see that they were selling Vibram FiveFingers!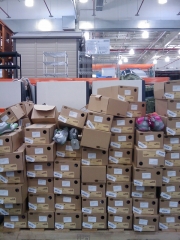 Unfortunately, they only had the Women's Bikila model. However, they were very cheap. I've never been more happy (that VFF were available in Taiwan) and disappointed (that they had no men's sizes or other models) at the same time.
Hopefully, this is a sign of good things to come. Here's hoping that we'll soon see more VFF in Taiwan.
Update: I have heard there are more VFFs at the Neihu (Taipei) Costco and the Kaohsiung Costco. I headed down to Kaohsiung and saw more female sizes, but there were 2 pairs of Men's KSOs in the middle (no boxes), both size 42, which was OK for me. I bought one pair (NT$1999). I have yet to see any other models besides Women's Bikila and Men's KSO.